Sonny's Beach Activities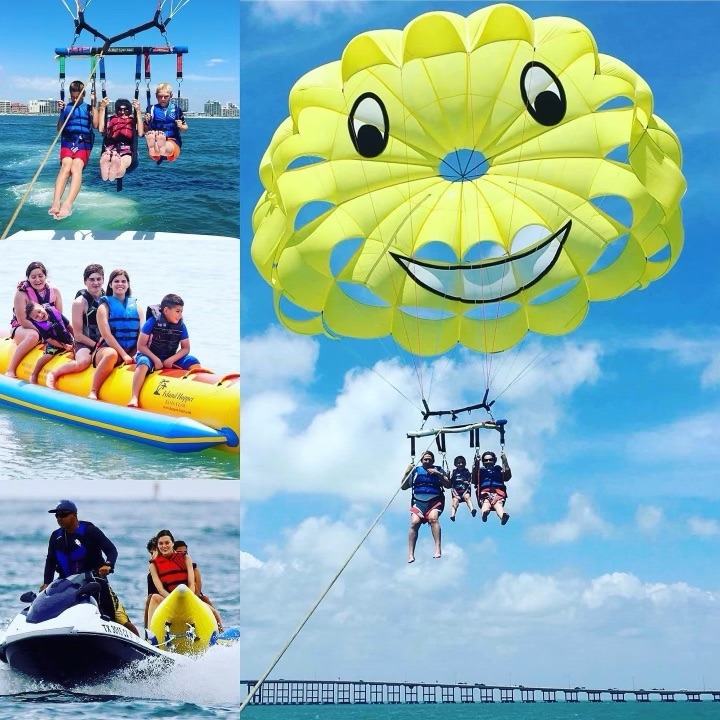 Parasail in the Gulf of Mexico
The only South Padre Island company to Parasail in the Gulf of Mexico.
Come aboard one of our 32 1/2-foot Paracraft Parasail Boats. Fly single, double or triple. Boats will accommodate from one to six people. Bring your camera, friends, and family! See the Island while flying hundreds of feet in the air. Save with our best price daily cash specials.
Boarding right from the beach into our dinghy shuttle boat and enjoy the thrilling ride to and from the Parasail boat. Experienced United States Coast Guard Licensed Captains with professional trained crew.
Be safe and Parasail in the open ocean waters with no obstacles to worry about.
Remember to purchase a souvenir Parasail t-shirt, cap, or fanny pack at the rental cabana. Boat schedules every 30 minutes.
Locations: Pearl South Padre Island Hotel, Isla Grand Beach Resort and Sapphire South Padre Condominiums.
Banana Boat Rides
Banana Boat Rides on the South Padre Beach
Banana Boat Rides in the Gulf of Mexico weather permitting otherwise bayside. Boat will accommodate from 1 to 6 people.
Banana Boat schedules every 20 minutes. Fun for all ages! See the South Padre Island shoreline as you ride the Banana Boat up and down the coastline.
Banana boats are a thrilling ride but not for those that are afraid to fall in the water or panic. Boat will turn over and you must be in physical condition to board the boat in the water.
Parents should consider water conditions before allowing children to ride.
No need to leave the beach to find the most thrilling ride offered on South Padre Island. Ride the Banana Boat with Sonnys Beach Service located at the Isla Grand Beach Resort, Pearl South Padre Hotel and Sapphire Condominiums.
No Matter Where You Stay, Come, and Play on the Beach. Public Welcome!
Umbrellas and Beach Chair Rentals
Umbrella and Chair Rentals on South Padre Island Beach
Commercial grade Umbrellas with comfortable Lounge Chairs. No matter where you stay you are welcome to enjoy our beach services.
We are located at the Isla Grand Resort, Pearl South Padre Hotel, Sapphire Condominiums, Sea Vista Condominiums, and the Sunside II Condominiums.
Beach attendants on duty and they are just full of information about South Padre Island and waiting to share it with you.
Our rates are Daily or 1/2 Day After 2PM, No Hourly Rentals.
Umbrella and chair rentals open at 9am daily, weather permitting. (Condominium umbrella and chairs are ready to occupy by 10am).
Beach Rentals should be ready to be occupied by 10am (times are subject to change without notice).
Umbrellas will be closed due to high wind, lightning, or rain. No refunds due to weather. Umbrellas cannot be sublet.
Please use a towel, one adult per chair, keep umbrella area free of trash, no rainchecks, no transferring setups, do not move or adjust umbrellas, don't put equipment in water, and please inform the beach attendant upon departure. No glass, no littering, no open fires, stay off dunes, pets on leash only, and no umbrellas, chairs, awnings, or tents before 9am.
---
---
Other South Padre Island Activities
Beach Weddings
South Padre's Best Weddings are setup by Sammi Kaye using professional equipment and the island's most dependable partners for a complete worry-free experience.
We offer a one stop shop for all your wedding needs. We'll make sure every detail is taken care-of you just show up and smile!
Have the wedding you've always dreamed of on the beach with Sammi Kaye and her team of local professionals. We'll maximize the ambiance of our Island's white sands, blue water, and tropical climate for your unique wedding experience.
Sammi Kaye and her team will ensure your wedding ceremony is the fantastic event you'll treasure for a lifetime.
You deserve the best on your special day...
Fireworks
Fireworks 
The city of South Padre Island has fireworks on South Padre Island from Memorial Day to Labor Day on Tuesdays bayside at Louis Backyard and Thursdays behind the Isla Grand Beach Resort. You can experience fireworks from a boat cruise.
Join The Original Dolphin Watch at the Sea Ranch Marina and celebrate island life with a bang all summer long! These are three-hour trips that include the dolphin watch, sunset cruise, and the fireworks in the bay.
Eco-Tour Cruise
The Ecology Tour begins with the crew of the "Double Sunshine" dragging a net on the bottom of the bay and bringing up live specimens of marine life.
The sea life is then put into our living saltwater laboratory where the captain gives a presentation on what has been brought up in the net.
After the Eco Tour presentation, the Double Sunshine continues the excursion following the dolphin pods along the Devil's Elbow.
Scuba Diving
American Diving offers snorkel trips, dolphin watch excursions, diving adventures, scuba charters, snorkeling lessons, diving certification, and scuba equipment sales.
A dive center which takes you from the office to the hot sandy beaches of the Mexican border. You can share this excitement with other divers and snorkelers in the deep blue waters of the Gulf of Mexico. Visit state-of-the-art training facilities, and dive and snorkel from U.S. Coast Guard documented and inspected vessels.
Diving offers beauty, challenge and excitement.
Dolphin Watch
The Original Dolphin Watch at The Sea Ranch Marina
One of the most unique activities on South Padre Island is the dolphin watching tour. South Texas is a year-round home to several large pods of dolphin and The Original Dolphin Watch is your ticket to viewing them in all their natural splendor.
One of the most memorable activities you will take part in while visiting South Padre is a cruise with us. Share the thrill of meeting bottlenose and spinner dolphins in the wild and experience the unique bond and kinship they inspire in mankind.
The Original Dolphin Watch began in 1988 at American Diving with tourist requesting a ride on our boats to go out and see our islands dolphins. Since that time the Dolphin watch has become the most popular form of eco-tourism on South Padre Island.
Bay fishing
South Padre Bay fishing in the blue waters off Texas draws a wide range of anglers to the region.
From enthusiastic saltwater anglers to total newcomers. If you're in the mood for fishing, then pack up your fishing gear and get ready for a thrilling day of Texas fishing.
South Padre Island Bay fishing can provide you with an all-around fun and exciting fishing experience.
The primary fish that are caught in the area are the sand trout, whiting, croakers, sharks, and sheepshead, some excellent fighters. Kingfish and black drum are also caught in the area, another of the reasons why this area is great for beginner fishing.
Where can you go that you can fish all day and have a local restaurant cook your catch?
There are approximately 600 different species, but the most commonly caught fish are the red or black drum, spotted sea trout and southern flounder in the bay.
Check out Danny B Fishing Charters
Deep Sea Fishing
Deep Sea Fishing Charters
Enjoy a full day or half day deep sea fishing. We are known as the "Red Snapper Specialists". You'll have fun and fish your limit with our experienced and friendly crew. We also catch Grouper, Shark, Ling, Kingfish, and Amberjack.
The fishing captains have years of experience fishing the waters of the Gulf of Mexico and put their skill and knowledge to work for you. providing a fishing adventure, you will never forget!
Where can you go that you can fish all day and have a local restaurant cook your catch?
There are 600 different species, but the most commonly caught fish are the red snapper, king mackerel, amberjack and pompano in the gulf.
Check out Todd Sport Fishing and Murphy's Fishing.
Wave Runner Rentals
Jetski Wave Runner Rentals by Play Watersports
Wave runners for one, two or three people.
Fast, New Yamaha Wave-runners.
Enjoy a thrilling ride!
Yamaha Ex Deluxe Wave Runner
1/2 Hour $60
1 Hour $100
1.5 Hours $145
2 Hours $190
4 Hours $375
*Gas is not included. You may bring your own.
**Initial $500 deposit per PWC
Click here for Wave Runner Reservations 
If you're in the entertainment district check out Louie's Backyard and Tequila Sunset, they have great nightly entertainment and Louie's has some of the best dining on the Island.
---