Sonny's Beach Service, Inc. has served the South Padre Island community since January of 1986. Sonny and Vickie Gentry (pictured below in 1986), owner and operators of the company were instrumental in bringing Water Sport Activities to South Padre Island.
Sonny and Vickie attribute the success of the business to surrounding themselves with well-trained employees along with the employee leadership of Cole and Sammi Bowers, managers of Sonny's Beach Service for 37 years.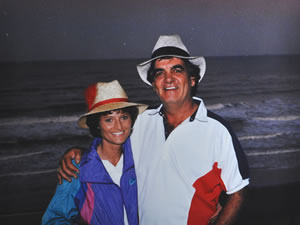 Cole supervises the water sport activities with 36 years of experience on the water and Sammi has been instrumental in establishing a Professional Code of Ethics between employees and our clientele. Customer service, satisfaction and safety are a priority within the company.
Sonny was the first Parasail operation in the bay waters. Sonny commissioned Hoot Gibson from Lake of the Ozarks to bring the first platform style Parasail Boat to South Padre Island that was capable of Parasailing in the Ocean.
Sonny's fleet includes two Paracraft Parasail Boats, which are the smoothest boat on the waters. Sonny put the first fleet of wave runner's ocean side and introduced the Banana Boat Rides as an addition to fun things to do on the Island.
Today you may find some who Parasail and Wave runner operations in the Laguna Madre Bay, but none with the knowledge, experience, and professionalism of Sonny's Beach Service. Sonny's remains the only Company that Parasails in the Ocean.
Sonny's Beach Service dedicates their services to the Island's finest Resorts, Hotels and Condominiums offering Umbrella and Lounge Chair Rentals, Banana Boat Rides, Parasail Rides, Boogie Board and Tube Rentals, Suncare Products, Beach Toys, specialized Parasail t-shirts and Caps, reservations made for Dolphin watch, Eco Tours, Fireworks Cruises, Snorkeling, Scuba Diving, Bay and Deep Sea Fishing, Wave runner Rides, Beach Wedding and Equipment Rentals and many other Activities on South Padre Island.
If you are looking for fun things to do on South Padre Island and want the Professionals, contact us today!